What Can Affect Your Horses Eye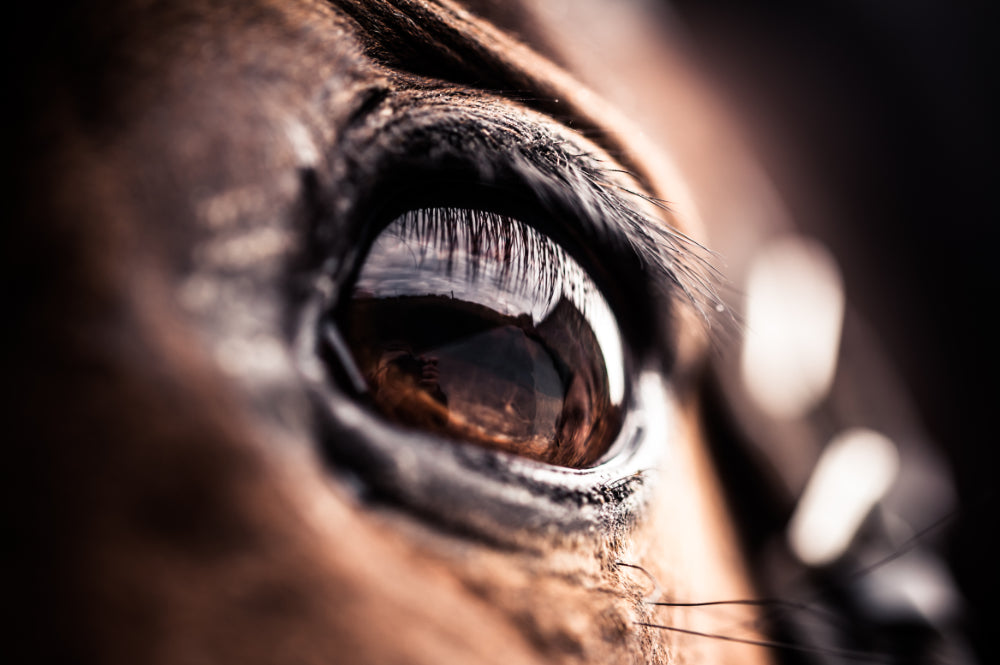 As the old saying goes, " The eyes are the window to the soul". By really gazing into your horse's eyes, you can really tell what they are thinking, what mood they're in, and if they're feeling okay. 
Daily Checks
Daily checks on your horse's eyes when you are grooming are crucial to help you spot a problem early and stop it from becoming a serious issue. Look out for clouding on the eye's surface, weeping eyes. Another sign of eye issues can be when your horse rubs one eye a lot; this can be a sign of discomfort from Uveitis, a form of cramp-like spasm inside the eye. If you spot any of these symptoms, contact your vet immediately.
What To Look For
Your horse's eye should look bright and clear with no discharge, observe the eye to make sure he isn't squinting or holding one eye shut, check to make sure he isn't light sensitive. Any film, cloudiness, or veins leading up to the corner are abnormal and need to be seen by a vet immediately.
A "red" eye or swollen conjunctiva or eyelids will require further attention by your vet.
What Can Cause Irritations To The Eye?
Seasonal allergies often cause a runny nose and watery eyes, this is due to how high the pollen count is.
If your horse's eyes are open, bright and not painful, but discharge is present, they may have pollen buildup. The discharge seen is often yellow or white. Pollen buildup can be reduced by flushing your horse's eyes two or three times daily, using a product made for equine eyes. Your horse's eyes should clear up in a couple of days as the plants move on in their life cycles.
Dust
Dust can blow into the horse's eye while in the field, out hacking, or in the arena. Using a fly mask can help prevent dust from blowing into your horse's eyes.
Keeping your stable clean and tidy and swept out every day, will help prevent a build up of dust.
As with pollen, if your horse's eyes seem normal except for some discharge in the corners, simply flushing may be all you need to do.
Corneal injuries
If your horse has some tearing, squints or closes his eye, there is a chance that the cornea has been scratched. Some horses will express a corneal scratch by shying away when you get near the eye. Corneal injuries require veterinary attention because a scratch can become more serious quite rapidly. Your vet will examine the eye with an ophthalmoscope and may apply fluorescein dye drops. She'll then re-examine the eye to look for fluorescence on the cornea, as injuries will show up as bright green.

Corneal injuries require oral or eye drop medication; and sometimes dilation to relieve pressure. Antibiotic ointment is generally applied less frequently, but can be more of a challenge to get into your horse's eye; however, drops usually require frequent application. The easiest way to apply eye medication is to have someone to hold the horse by the head collar, while the person that is applying the eye medication to gently pull the lower lid down, and put the drops or ointment on the inside of the lower lid.
Flies
Flies are attracted to equine eyes because they feed on the secretions they produce. Flies can cause severe swelling and allergic reactions with their bites at certain times of the year. They can become aggressive and continuously biting your horse mostly at the tail end of summer and during warm days.
Wearing a good fly mask will help stop the fly coming into contact with your horses eye; choosing one with a high UV protection rate will also help block the sunlight from your horses eyes keeping them protected.
There are also longlasting fly sprays on the market that can last up to 12 hours, usually that include an ingredient called DEET. If you would like to use something more natural there are citronella sprays on the market that will keep the flies at bay.
There are a good range of fly rugs available that will help stop the fly biting your horse's body.
Equine Nutrition